In brief
On 5 April 2021, the US Court of International Trade (Court) issued a significant ruling that overturns a portion of the Section 232 tariffs imposed by President Trump under Section 232 of the Trade Expansion Act of 1962 (19 U.S.C. §1862). The decision affects the duties imposed on US imports of steel and aluminum "derivative" products but not the more general steel and aluminum tariffs. The Court found that President Trump missed the statutory deadline when he extended Section 232 tariffs to cover steel and aluminum derivative products more than two years after he received the original Section 232 report. In particular, the President failed to issue the proclamation expanding the duties within the 105-day window beginning upon receipt of the investigation report issued by the Secretary of Commerce. The decision may provide a path to meaningful relief (i.e., refunds and future imports with no Section 232 duties) to importers of these products and also provides important precedent for the ongoing litigation challenging the Section 301 tariffs imposed on Chinese goods.
---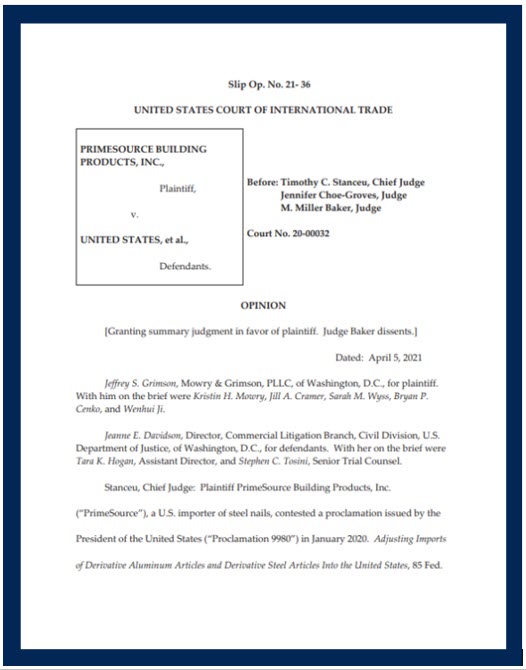 This recent decision follows an earlier one in the same proceeding (Slip Op 21-8, dated 27 January 2021), in which the Court denied both the government's motion to dismiss and the plaintiff's motion for summary judgment, meaning the Court ordered additional briefing on the critical question of when the 105-day period began. The US Government declined to submit additional evidence on this question, and the Court concluded that the government therefore waived an argument that it complied with the 105-day time limit. After finding the President's actions unlawful, the Court ordered covered entries to be liquidated without the assessment of duties and refunds of past duties paid by the plaintiff.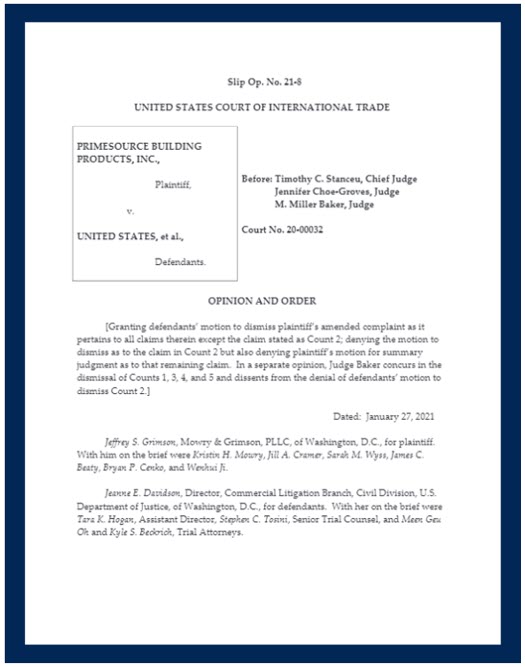 The decision is subject to appeal. However, importers of derivative steel and aluminum products should assess the status of entries immediately and preserve rights to refunds, including through the filing of protests or post-summary corrections. The "derivative" steel products covered by the action include nails, tacks, drawing pins, corrugated nails, staples, bumper stampings of steel, certain accessories of motor vehicles, and body stampings of steel for tractors suitable for agricultural use. The "derivative" aluminum products covered by the action include stranded wire, cables, plaited bands, and slings, whether or not with steel core. Further guidance from US Customs and Border Protection may follow, but action is likely needed to seek immediate relief.
Section 301 Tariffs:
In addition, the timeliness of the President's actions under trade statutes is a central issue in the ongoing Section 301 litigation, where nearly 4,000 complaints have been filed challenging the expansion of tariffs on Chinese imports through two additional "lists" of covered products.
For further details, please contact the authors or the Baker McKenzie lawyer with whom you regularly work.