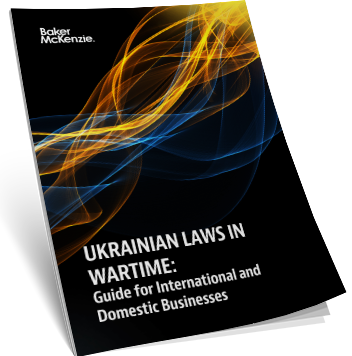 Baker McKenzie is pleased to submit its next, the sixth edition of Ukrainian Laws in Wartime: Guide for International and Domestic Businesses, a brief overview of the key features of wartime legislation.
This issue contains updated responses to the most common questions raised and considered by international and Ukrainian businesses these days in the following practice areas:
Martial Law and Special Legislation
Employment and Migration
Financial Arrangements and Financial Sector
Corporate
Tax and Customs Regime
Real Estate
Work of State Courts and Arbitration Tribunals
Enforcement Proceedings
Intellectual Property
Antitrust and Competition
Pharmaceuticals and Healthcare
PLEASE NOTE that Ukrainian legislation undergoes frequent changes and adjustments during this extraordinary period. This guide should not be regarded as a substitute for a specific legal advice tuned in to your particular situation and needs. Please always seek our specific and personal advice to rely upon when taking decisions or planning actions for your business. Our Ukrainian legal experts are available to assist you in the most efficient and reliable manner, with quality standards usual for our global Firm.
With wishes of victory to Ukraine and the world, and prosperity for your business in Ukraine,
Baker McKenzie, Kyiv Office
About Baker McKenzie
Complex business challenges require an integrated response across different markets, sectors and areas of law. Baker McKenzie's client solutions provide seamless advice, underpinned by deep practice and sector expertise, as well as first-rate local market knowledge. Across more than 70 offices globally, Baker McKenzie works alongside our clients to deliver solutions for a connected world. (www.bakermckenzie.com)
For more information, please contact:
Larysa Syvak-Anina
Marketing and PR Manager
Baker McKenzie+48224453460


[email protected]