In brief
As of 26 June 2021, new relaxations of COVID-19 measures have entered into force. One of these relaxations is that 50% of employees can work from the office. As an employer, what do you need to think about when returning to the office? In this article, we briefly answer six frequently asked questions.
---
Can I force my employees to be vaccinated?
As an employer, it is not permitted to oblige an employee to be vaccinated and/or to attach legal consequences to non-vaccination, nor is it permitted to ask an employee whether they have been vaccinated. After all, information about vaccination falls under an employee's medical data. This is not allowed under privacy laws (the General Data Protection Regulation).
Can an employer ask whether an employee has health issues?
No, in principle an employer cannot ask about an employee's medical condition and medical data.
Can an employer ask whether an employee has been to an area with a high risk of COVID-19?
Yes, as this does not involve medical data. Such information may be important to an employer in creating a safe working environment for employees. However, it is advisable to make the policy on this matter known to employees in advance.
Can I force my employees to come to the office?
Yes, based on the legal right to instruct, an employer can determine where the work will be performed by an employee. If an employer asks an employee to come to the office, an employee, in principle, will have to comply. However, an employee can stop working and refuse to work at the office if there is a serious danger. This could mean that, when the applicable COVID-19 measures are not properly observed at the workplace, an employee can interrupt work and refuse to come to the office.
What obligations does an employer have to guarantee safety at the office?
Under the Working Conditions Act and the Working Conditions Decree, an employer must create a safe working environment and take preventive measures to prevent infections with COVID-19. For example, employees must be made aware that they must not come to the office with COVID-19-related complaints and must observe all hygiene regulations and other measures (e.g., walking routes and 1.5-meter distance). It is also advisable to adapt the risk inventory and evaluation to the current situation.
Can an employer require an employee to undergo COVID-19 testing before coming to the office?
It is not possible to oblige an employee to be tested for COVID-19. Making a test compulsory is an infringement of an employee's physical integrity.
Please be referred to our COVID-19 tool, where we discuss these topics in detail.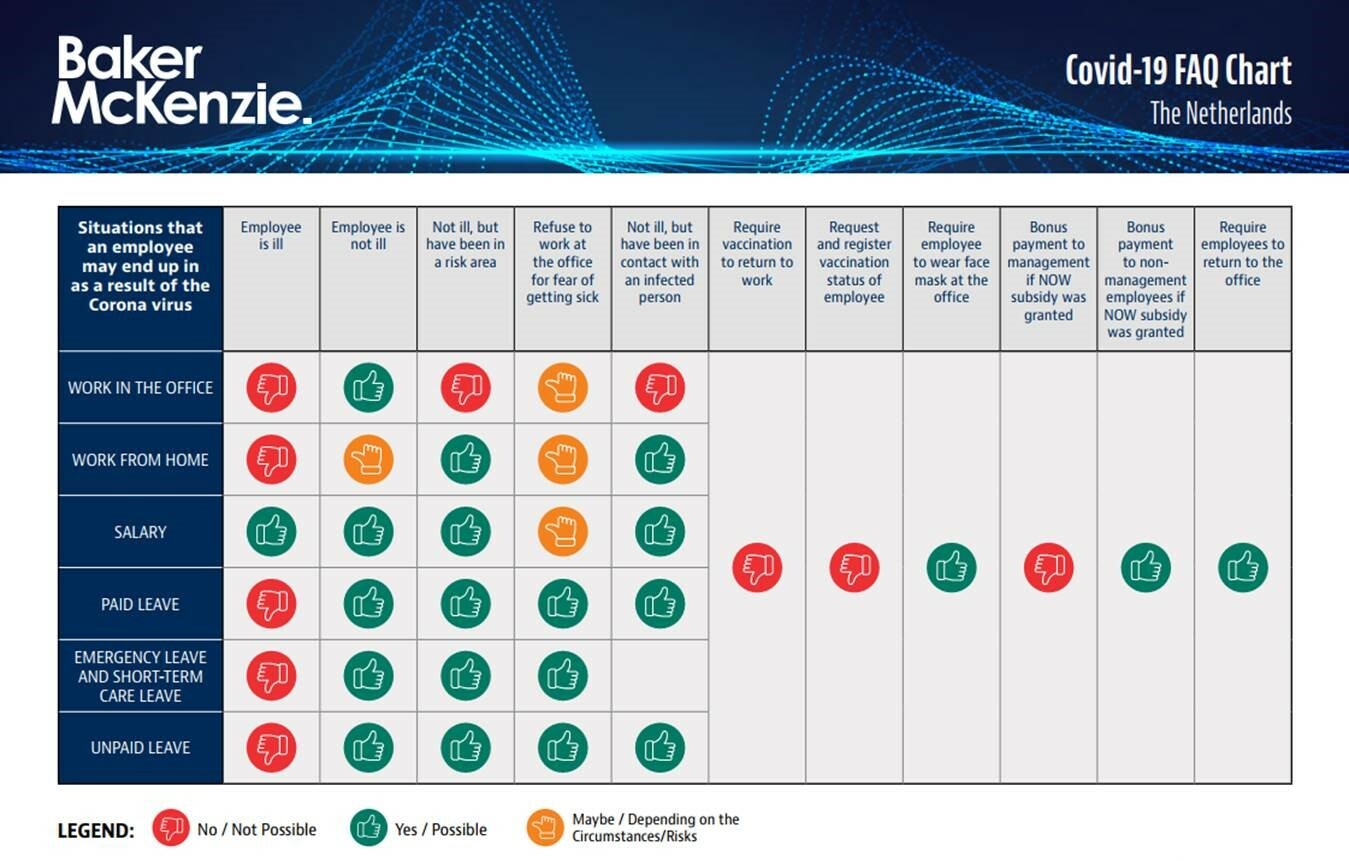 If you need further advice, please do not hesitate to contact us.
Click here to access the alert in Dutch.