The Thai Customs Department has launched a Customs Trader Portal, an online web application that gives business operators a convenient option to register as an importer, exporter, and an operator who conducts customs formalities. This platform, implemented on 1 July 2021 for Thai individuals, is more aligned with the current digital economy. It also provides a third registration option for Thai individuals to register as customs formality operators. Previously, there were only two methods manual and E-customs.

On 23 June 2021, Thai Customs issued notification No. 94/2564 RE: Registration to be the Customs Formality Operators. This notification was issued to cancel the previous notification, i.e. the notification No. 64/2561 RE: Registration for being Customs Formality Operators.

To register via the Customs Trader Portal, a registrant must complete an identity verification via a partner application, which is currently limited to three methods— using an online application named Pao-Tang; via Krungthai ATMs; and at all branches of Krungthai Bank.

A summary of all registration methods is described as below.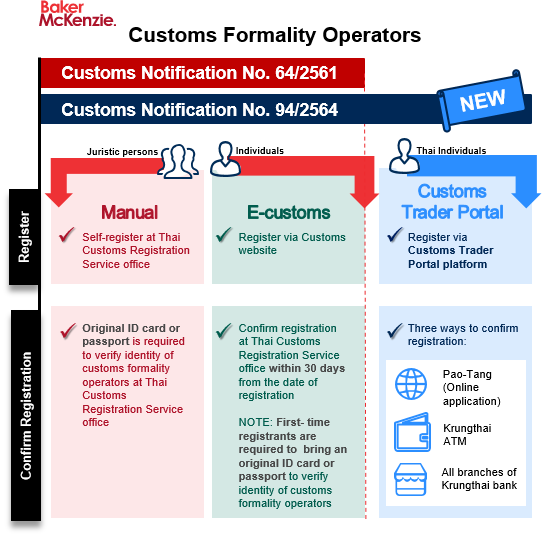 Handle information changes promptly to avoid complications
This new notification further requires the customs formality operators to update any changes of information within 30 days from the date of change; otherwise, Thai Customs will suspend the right to be a customs formality operator until the information is updated. Given this, business operators may struggle with imports and exports, provided that they will not be able to carry out the customs clearance process. Furthermore, if business operators are not able to fix this within 6 months from the date of the change, Thai Customs will deactivate their name and information from its customs system. Then, if the business operators would like to carry out customs formalities, they will have to repeat the registration process with Thai Customs again.

Due to the upcoming implementation of personal data protection, this notification shows how Thai Customs will manage personal data and clearly specifies that Thai Customs may disclose personal data to other government sectors, such as Krungthai Bank, and its partners who developed the system. The personal data will be deleted or destroyed after 10 years of storage.

Please contact us for further information or assistance regarding the registration process with Thai Customs.