In brief
Healthtech gained tremendous attention during the past year or so as a result of the pandemic-driven lockdowns and restrictive circumstances. As we discussed in the past, government agencies around the world had invariably leveraged technology to support healthcare delivery and services over the years, and these efforts have accelerated in response to the pandemic. In the case of Thailand, based on its 10 year national health security plan, the Ministry of Public Health (MOPH) has progressed and implemented its policy by working with relevant government agencies such as the Food and Drug Administration (FDA), the Medical Council of Thailand, the Pharmacy Council and the National Broadcasting and Telecommunications Commission (NBTC) to develop and issue guidelines for telehealth services.
---
Following the lockdown, there have been rapid developments on the legal and regulatory front in three main areas in particular, namely Telemedicine Guidelines issued by the Medical Council of Thailand, the notification of the MOPH regarding Standards of Telemedicine Services Provided by Medical Facilities, and the telepharmacy guidelines announced by the Pharmacy Council.
The progress of Thailand's digital transformation in the healthcare space has so far allowed:
Patients to access consultations with doctors from a distance for following up purposes, whether it be through online communication or mobile applications
Doctors to treat patients "only for specific illness and symptoms which are practical for treatment by telemedicine"
Pharmacists to dispense general and household drugs without seeing patients in person, provided that certain protocols are complied with
Pharmacists to dispense dangerous drugs, specially controlled drugs, and drugs by doctor's prescription only, but such prescription may only be sent via electronic tools or via applications if proper protocols, such as confidentiality of patients' data and follow-up of adverse effects, are followed.
Infographic 1: Thailand's telemedicine – present pace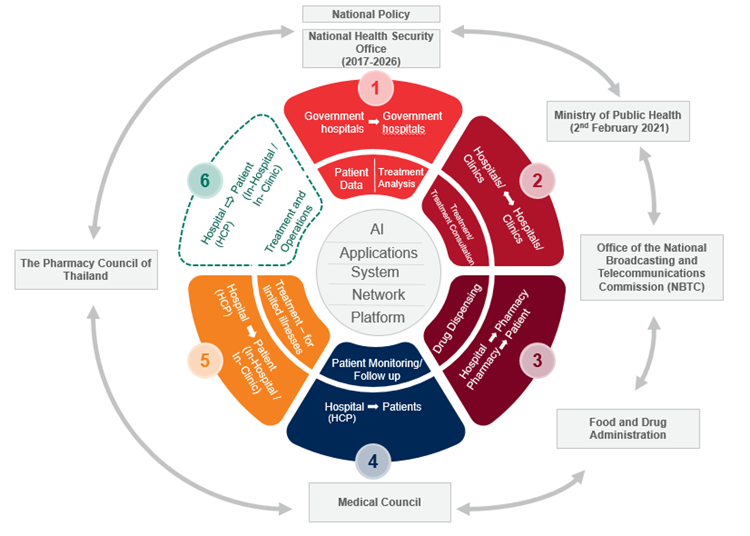 Digital transformation developments have been coming along in a fragmented fashion, like jigsaw puzzles that need interweaving into a big canvas of the national digital transformation plan. Relevant stakeholders in the digital healthcare ecosystem have been progressing their digital transformation plans which ultimately, if they are able to collaborate effectively, would enable acceleration of digital health development in Thailand and a more coherent infrastructure. One of the main pieces of the jigsaw is the FDA. The FDA has now planned to digitalize its system and procedures based on the 5 "S" principles, namely Speed, Safety, Satisfaction, Supporter and Sustainability. The Thai FDA has presently implemented seven flagship projects, and a few of them are those which will transform the organization into a digital organization.
In essence, the FDA aims to have most of the activities done online and currently many submissions must be done online only. This is the same for other relevant communications, such as following up the progress of applications and filing complaints. Applicants will be able to monitor the process or the progress of their applications online via the FDA website. Any interactions with the public and business operators will therefore be transparent and hopefully more efficient. Indirectly, the total cost for operators in handling their applications or getting their marketing authorization and other approvals as advertised should be reduced. These outcomes are based on the FDA's commitment to develop their digital infrastructure as well as enhance their personnel's technological and digital capabilities and, more importantly, adjust the mindset of personnel along with other relevant stakeholders.
Below is one of the slides provided by the FDA during their seminar on "Guidelines on Driving Digital Work Plan of the Food and Drug Administration for Fiscal Year B.E. 2564-2565" held on 31 May 2021 that illustrates the FDA's vision and digital work plan.
Infographic 2: FDA Information System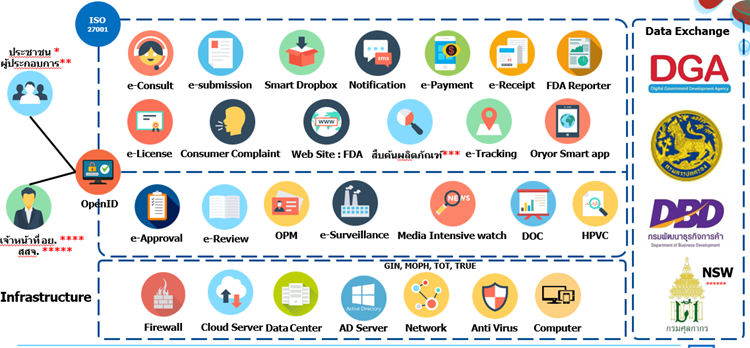 Source: FDA Strategy and Planning Division
Remarks: *General Public; **Business Operators; *** FDA's public product search; **** FDA Officials; ***** Provincial Public Health; ****** Thai Customs National Single Window
There are of course challenges which the FDA, along with business operators and the public in general, will have to overcome in order to achieve the FDA's goal of transforming into "an innovative and digital organization." Upon such an achievement, there are still different types of challenges in managing and maintaining the digital infrastructure. Some of these challenges include cyber security, handling confidential data and data privacy.
It is exciting to see these developments progressing at a relatively fast pace. This piece of the puzzle is definitely a large part of Thailand's digital health landscape and we look forward with much anticipation to the plan being implemented.
The first infographic above illustrates roughly how the recent developments help patients to access healthcare, medicine and treatment through "telemedicine/telehealth." While the sixth component illustrated in the infographic should ideally be the measure of success, given how complex the hospital networks and structure of government agencies are in Thailand, the progress which we have seen during the pandemic deserves commendation. Going forward, it may take longer before we can expect to be fully treated for more severe illnesses at a distance. Healthcare professionals will need time to familiarize themselves with the new methods of healthcare delivery and be assured with no or low prospects of professional malpractice claims or complaints. In addition, we will need more time for innovations available in the market to support "telemedicine" and for the FDA to reclassify various drugs and conduct safety assessments of devices used in telemedicine. More importantly, we need the public to appreciate the capabilities and limitations, as well as the risks that come with telemedicine. For example, the full scale of telemedicine in the sixth component might not even arrive if the public's understanding of various risk levels is lacking.
In any case, we still need more integrated collaboration from various stakeholders in the healthcare ecosystem for the digital health and telemedicine landscape to achieve their potential. The example of the recent initiatives of the FDA is only one such stakeholder. Having said that, it is encouraging that we are now seeing concrete steps in this direction as seen from the FDA's plan above.
For more information, please contact our Healthcare & Life Sciences Industry Group at Baker McKenzie.