In brief
Labor unions seem to be having a resurgence after being on the decline for many years. Employers are concerned with this shift, and are wondering what they can do to within the bounds of the law to keep a direct relationship with their workforce.

In this Quick Chat video, our Labor & Employment lawyers discuss the current labor union landscape, what's causing this wave of union activity, and some steps employers can take to get out in front of the escalation in union organization.
Speakers: William (Bill) Dugan, Joseph (JT) Charron, Remy Snead
Our US Labor Unions Capabilities

We advise unionized and union-free companies on compliance with all US labor laws and counsel clients on effective hiring procedures, employee resolution processes, wage and benefit packages, leave management, terminations, and other terms and conditions of employment.

Read more about our expertise and how we can help in Baker McKenzie's US Labor Unions Capabilities Brochure.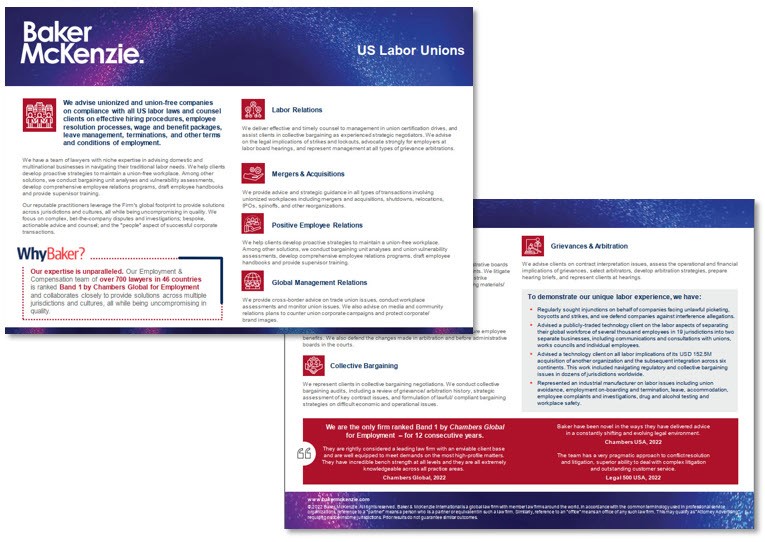 Subscribe to The Employer Report blog where Baker McKenzie lawyers provide legal updates and practical insights to help clients understand, prepare for and respond to the latest domestic and cross-border Labor and Employment issues affecting US and multinational employers. Past videos are linked in the blog sidebar for easy access to topics including guidelines for accommodating sincerely held religious beliefs, COVID-19 employment litigation trends, and much more.